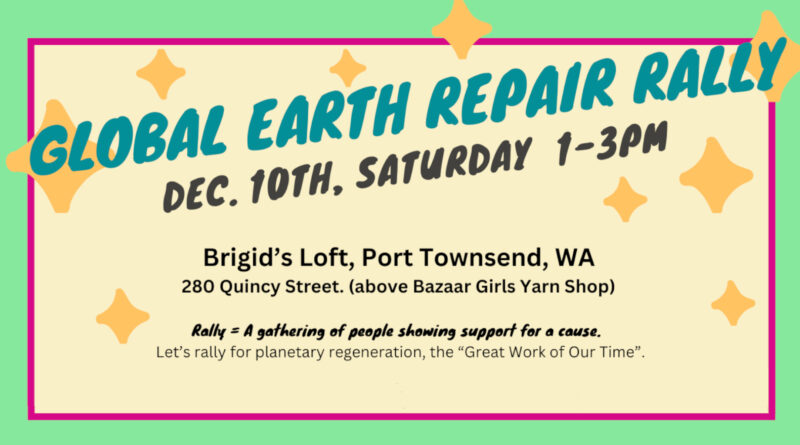 Presentation
"Planetary Regeneration – State of the Art Strategies and the Global Earth Repair Movement" – Michael Pilarski will give a presentation on the best methods to re-green the planet, re-hydrate drylands, and stabilize the climate. The Global Carbon Project has calculated that ecosystem restoration and regenerative agriculture innovations are already sequestering an additional 10.6 million tons of CO2 a year. Here is a chance to hear about the current status of planetary regeneration – what needs to be done, and how you can be involved. We can win this, folks!
Learn how you can sponsor a grass-roots, earth-repair project overseas. A little bit of money and help can make all the difference for many grassroots projects in the Global South.
Discussion
What Earth Repair work needs to be done in Jefferson County? There will be a facilitated discussion period about what we can do for ecosystem restoration and carbon sequestration on our end of the Olympic Peninsula. Everyone can play a part. It is up to the people alive today whether the planet remains habitable for humans in the future.
Schedule
1:00-1:20 – Songs and Introductions
1:20-1:50 Presentation by Michael Pilarski
1:50-2:00 Ten-minute break
2:00-2:15 How to sponsor grass-roots projects
2:15-2:55 Discussion on local Earth Repair needs
2:55 – 3:00 Closing thoughts
Suggested Donation: $10 – $25
This is a fundraiser for the Global Earth Repair Foundation.
Facebook Event Link: https://www.facebook.com/events/1287984371742787

For further information contact Michael Pilarski:
(360) 643-9178 – friendsofthetrees@yahoo.com