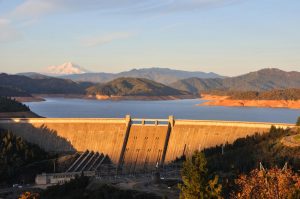 OCA member Krestine Reed writes: The topic of methane and dam reservoirs comes up regularly these days. Because this topic is of universal concern, I put together a bit of information. Of course, there is much, much more information available.
Take special note of the "Tell The Dam Truth" campaign initiative at the end of this post. The public must hold the U.S. Environmental Protection Agency (EPA) responsible. After all, its job is to protect the environment.
1. Long considered a "clean" energy source, hydropower can actually be bad for the climate. Nov 16, 2019
A study published on Nov 13, 2019, in Environmental Science and Technology shows that hydropower is not always as good for the climate as broadly assumed. The reservoirs where water is stored also produce both carbon dioxide and methane (an even more potent greenhouse gas, with over 80 times the warming power of CO2 for the first 20 years after it is released). Both carbon dioxide and methane are released when vegetation decomposes underwater. And here, there are enormous differences from facility to facility due to a range of varying reservoir features and meteorological characteristics.
2. New Monitoring Method Improves Ability to Measure Methane Emissions from Reservoirs Published May 18, 2021; Updated January 3, 2022
3. Over One Hundred Twenty-Five Groups Petition EPA to Report GHG Emissions from Dams and Reservoirs March 22, 2022
"The best available science indicates that dams and reservoirs can emit significant GHGs, including methane, at facilities across the United States. The United States has been leading the world to cut methane emissions, addressing a short-lived but potent greenhouse gas that's multiple times more destructive than carbon dioxide. Adding dams and reservoirs to the EPA's Greenhouse Gas Reporting Program is a critical step to address the climate emergency and the Biden administration's focus on methane emissions."
"Completely separate from the petition, over the coming months, a new initiative at tellthedamtruth.com will convene educational events and open letters with and from a range of policymakers, experts, and stakeholders to create new public focus and galvanize federal and local governments to act on issues related to the unintended consequences of dams, to better inform sustainable energy choices. You can join a movement to get the United States government to tell the dam truth and measure the true climate impact of dams and reservoirs.
"Sunlight is the best disinfectant," said Mark Easter, an ecologist whose expert research informed the development of the petition. "If reported, emissions from dams and reservoirs, on a per-area basis, could well be among the highest for any non-urban land use in our county. Acknowledging the problem is step one towards solving it."