Stop WA State from Logging Legacy/Old-Growth Forest in Elwha River Valley
Join the Center for Responsible Forestry and the Earth Law Center on Sunday, Oct. 23, 11-2pm, to visit a unique legacy forest in the Elwha River Watershed, just off of Hwy 101. (Sneak peak photos here). In joining us, you will get to connect with this special forest, see old-growth trees, learn more about why protecting mature legacy forests on state-managed lands is critical, learn about our advocacy for investing in rural communities, and learn how you can help. Read more
Solutions
Food waste solutions
Whether starting a municipal program, composting, keeping food waste out of the landfill reduces methane gas that is produced when food rots. Compost can also replace chemical fertilizers. Read more. By Clare Toeniskoetter — Climate Forward
Dallas Goldtooth on the liberation of laughter and the power of joy in organizing
Daniel Goldtooth, is a member of the Dakota and Diné Nations, who champions Indigenous representation in climate work as well as media. Read more. By Hannah Docter-Loeb — Grist
Regional Actions and Events
Necessity: Climate Justice and the Thin Green Line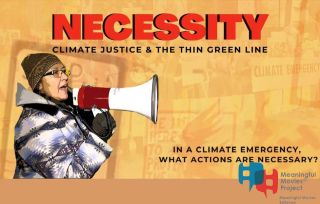 Tue Oct 25, 6:00 pm — 7:00 pm
Please join us on zoom for the 2022 documentary Necessity: Climate Justice and the Thin Green Line. Necessity is a powerful film following activists who enlist the "necessity" defense in a 2020 jury trial after being arrested for a direct action at Zenith Energy in Portland, OR.
This story of climate resistance in the Pacific Northwest brings into view a historical landscape of tribal leaders, Indigenous activists, and white allies as they resist oil trains and trucks carrying highly inflammable products through protected waterways and treaty lands. In following the path of oil-by-rail and oil resistance along the Columbia River Gorge, the film revisits lessons of the New Deal era of building massive dams and what climate activists take from that era as they think about a Green New Deal.
Documentary filmmaker Jan Haaken is professor emeritus of psychology at Portland State University and a clinical psychologist. As a psychologist and documentarian, Haaken weaves research and historical analyses into rich and vividly drawn landscapes that represent the perspectives of her subjects.
Join us via Zoom: Meeting ID: 879 2971 8047, Passcode: MMB
Tell WA DOE to pass a strong Clean Vehicles Program
Nothing pollutes Washington's air more than motor vehicles. A whopping 45 percent of the state's greenhouse gas emissions – and 22 percent of total air pollution – comes from tailpipes. Busy roads and transit hubs expose over four million people in our state to diesel fumes, and Black people, Indigenous people, People of Color, and low-income people are disproportionately burdened by polluted air. This needs to change.
The Washington Department of Ecology is considering three major new regulations as part of the Clean Vehicles Program:
1. Advanced Clean Cars II (ACC II) will require that automakers ramp up sales of zero-emission vehicles (ZEVs) starting in 2026 – and reach 100 percent by 2035.
This will not force anyone to give up their current vehicle or affect used car sales. It will make ZEVs more affordable and available and ensure a clear pathway to cleaner vehicles.

2. Heavy Duty Omnibus (HDO) Low Nitrogen Oxide (NOx) rule will require manufacturers to reduce harmful exhaust from new fossil fuel trucks.
Nitrogen oxides (NOx) cause many health problems, including asthma and chronic lung disease. These stricter air pollution standards will cut truck NOx emissions by approximately 75 percent by 2025 and 90 percent by 2027.

3. The Fleet Reporting Requirement will allow Washington to collect essential information on truck fleet operations.
This information will guide investments in truck electrification aimed at reducing air pollution where people live and preventing exploitative labor practices in the trucking industry.
We know that polluting industries don't want these new regulations. That's why the department needs to hear from you.
Local/Regional News
Climate Resilience pilot program kicks off
Climate resilience is the capacity of a jurisdiction, business, or natural environment to prevent, withstand, respond to, and recover from a disruption. Washington's cities and counties may build climate resilience by implementing a mix of preparedness, response, and recovery policies, including mitigating natural hazards, adapting to unavoidable impacts, and restoring degraded natural areas that provide key ecosystem services.
The Evergreen State's diverse landscape of glacial peaks, rolling plains, verdant forests, and rocky shores is already witnessing the effects of a warming world in the form of stronger storms, rising seas, and blazing wildfires. Starting this fall, the geographically diverse cities of Port Angeles, Pullman, and Woodland will test draft planning guidance to build communitywide resilience to climate change.
The aim of the pilot program is to create a flexible framework for cities and counties big and small to integrate climate goals and policies into their comprehensive plan. The draft resilience planning guidance — a sub-element of a broader Model Climate Element the Washington State Department of Commerce is leading as part of a collaborative state project — focuses on helping local jurisdictions prepare for, respond to, and recover from climate-exacerbated hazards and impacts. A companion mitigation sub-element shows jurisdictions how to measure and manage local emissions of carbon dioxide and other greenhouse gases from transportation, buildings, and other sectors.
Through the end of March 2023, a Cascadia-BERK consultant team will help Port Angeles, Pullman, and Woodland use the draft resilience planning guidance to explore local climate hazards and impacts, assess assets' vulnerability and risk, identify policy gaps and barriers, and select climate resilience measures for their comprehensive plan. Commerce will use the three cities' input to improve the draft resilience planning guidance and complete work on the broader Model Climate Element by July 2023.
It is currently optional for Washington's cities and counties to integrate a climate element into a comprehensive plan — either as a single chapter or across multiple chapters (for example, housing, transportation, and land use.). This year, Commerce provided about $1.6 million in grants to 27 cities and counties to help with this work — which could one day be required by State lawmakers. Commerce expects to provide about $4 million in grants over the next biennium, enabling additional jurisdictions to develop climate elements as part of their comprehensive plan periodic update cycle.
Visit the Commerce Climate Program website for more information about the Model Climate Element, grants, and other information.
The International Indigenous Salmon Seas Symposium
Building Indigenous-Led Conservation Alliances Across the Pan-Pacific Salmon Seas
Livestreamed both days:
Friday, October 28, 9 am – 4:30 pm
Sunday, October 30, 6 – 8 pm
"We are the salmon people, our spirit and soul would be crushed if we have no salmon."
Jay Julius, Member, Lummi Nation and President, Se'Si'Le
The Symposium brings together thirty-five Indigenous peoples, knowledge-keepers, and invited guests from the three great salmon seas: the Salish Sea, Alaska, and the Russian Far East (the Sea of Okhotsk/Bikin River and the Kamchatka Peninsula) for five days. We gather to invoke in a good way that is held in the arms of ancestral knowledge and deep ceremony a new era of collaboration and communication among the Salmon Peoples of the Pan-Pacific.
"All these Salmon Nations and Peoples hinge on a right and respectful relationship with the salmon. Survival of indigenous identity and culture depends on the salmon."
JoDe Goudy, Member, Yakama Nation and Vice-President, Se'Si'Le
The cumulative impacts of overharvesting, habitat loss, pollution, governmental neglect, as well as global warming are all contributing to a decline of up to 90% of the wild salmon in these Salmon Seas. This catastrophic ecological disruption is also a clear and present danger to the ancient lifeways of the Pan-Pacific Indigenous communities. The Symposium is dedicated to the proposition that all of us have an obligation to each other, to all our relations, to the creation, and to future generations to honour ancient lifeways, celebrate our alliances, and work together to restore to health of the Salmon Seas and through that healing, to heal ourselves. Se'Si'Le is honoured to work with its friends and allies to facilitate this historic gathering that is a turning point in the work to restore the Salmon Seas. We express our gratitude to the indigenous participants who have come from the Russian Far East and to those from the Organized Village of Kake and the United Tribes of Bristol Bay who have come from Alaska. And our hands go out to the Original Peoples from the Salish Sea bioregion who will also bring their ancestral, ecological, and ceremonial knowledge to empower this historic gathering.
National Actions
Sign the petition to insurers: Stop funding climate change
Without insurance coverage, new fossil fuel projects cannot be built. Yet, major insurance companies are enabling the buildout by providing that crucial insurance. Fewer than 10 companies, including Chubb, AIG, and Travelers, insure the vast majority of the oil and gas industry.
Last year, following pressure from Indigenous communities and climate activists, Chubb committed to not insure tar sands oil projects like the destructive Trans Mountain pipeline in Canada. Keep the pressure on!
---
Call on the U.S. to support a Fossil Fuel Non-Proliferation Treaty
The President of the Pacific island nation Vanuatu, Nikenike Vurobaravu, stood up in the UN General Assembly and called for governments to negotiate a Fossil Fuel Non-Proliferation Treaty. It aims to stop all new development of oil and gas, phase out existing fossil fuel production, and ensure workers are transitioned to a green economy in a fair way.
Coal, oil, and gas are causing climate destruction — yet to date there are no international agreements to stop corporations and governments from opening new mines, building new pipelines, and green lighting fracking projects. If we do nothing, we accept a bleak future for those at the forefront of the climate crisis.
With COP27 global climate talks coming up in November, the world's attention will turn to climate action again.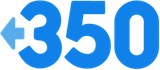 ---
Tell Drax to stop burning forests for energy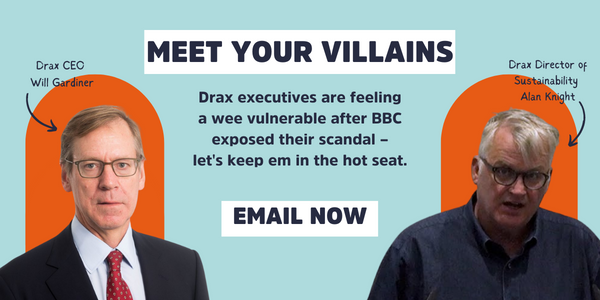 Logging old growth in B.C. is bad enough – logging forests for wood pellets is unforgivable. Drax is turning these natural carbon sinks into carbon bombs and receiving billions of taxpayer dollars to do so. Since being exposed, now is the time to ramp up public pressure.
These European banks are poisoning our air and water
Rio Grande LNG and Texas LNG are two NEW LNG export terminals slated for Brownsville, Texas in the Rio Grande Valley. These two projects will have enormous, devastating impacts on community health, Indigenous rights, endangered species, and our shared climate.
---
Stop new permits for Offshore Drilling
The U.S. Department of Interior and Bureau of Ocean Energy Management (BOEM) have a five-year plan for offshore drilling – with one new lease in Alaska and up to 10 in the Gulf of Mexico over the next five years. Opening our coasts to offshore drilling jeopardizes health, tourism, fishing jobs, marine life, and it puts coastal communities at further risk for even more ecological disasters. But BOEM's five-year plan is yet to be approved.
---
Tell Your State Treasurer: Support Climate-Safe Investing
In the past few weeks, the realities of climate change have been impossible to ignore, from Hurricanes Fiona and Ian leaving devastation in Puerto Rico and Florida to the floods in Pakistan displacing millions from their homes. Yet despite knowing for decades that their products lead to disasters like these, fossil fuel companies have doubled down, spending millions to spread disinformation about climate change and delay climate action. We cannot allow Big Oil to pay lip service to climate plans, while their actions fall far short of the transition off dirty sources of energy our planet needs. Together we must hold these companies accountable.
National/International News
---
---
Climate reparations are on the agenda at COP27 — whether wealthy nations like it or not
The groundwork for early-industrializing countries like the US to help with "loss and damage" of those affected by climate change is being laid. Read more
By Naveena Sadasivam — Grist
National Newsletters
A daily newsletter by Grist
Saturday, October 22 — How a Utah utility is helping an Estonian oil company hoard Colorado River water
Friday, October 21— Queens is now home to the biggest curbside composting initiative in the nation.
Thursday, October 20 — Congress is spending millions on new air monitors. Will it make a difference?
Opinion
If you think Bitcoin Spews Carbon, Wait Till You Hear About…Banking
Crypto's bad, and Citi, Chase et al are 79 times worse.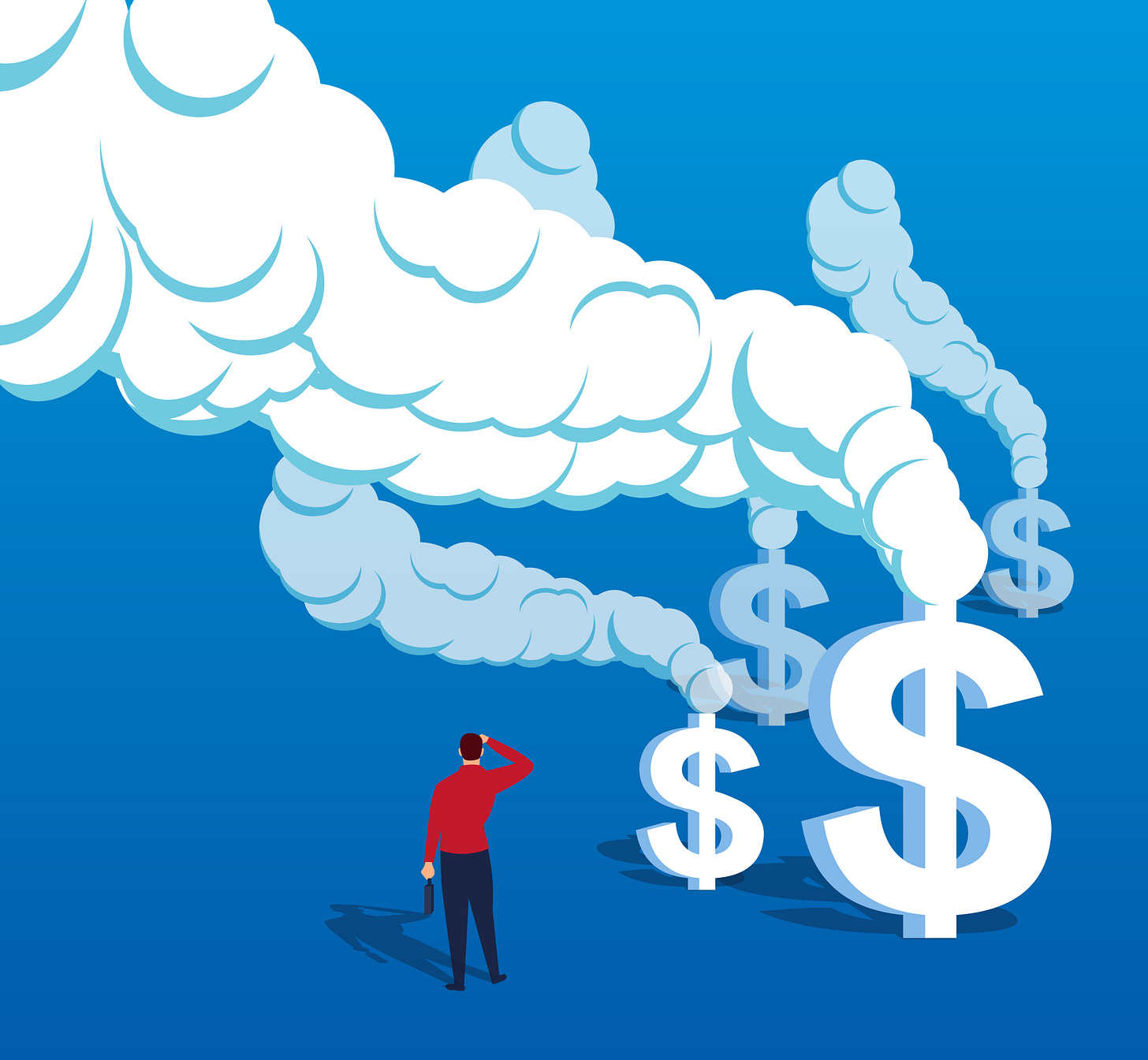 Spend about a Finland of your time thinking about crypto, and concentrate instead on the regular old banking system which is seventy-nine times worse for carbon emissions than crypto mining. If these banks were a country, they would be the world's fifth largest emitter, right behind Russia. Read more. By Bill McKibben — The Crucial Years
Environmental justice in WA starts with cleaner cars and trucks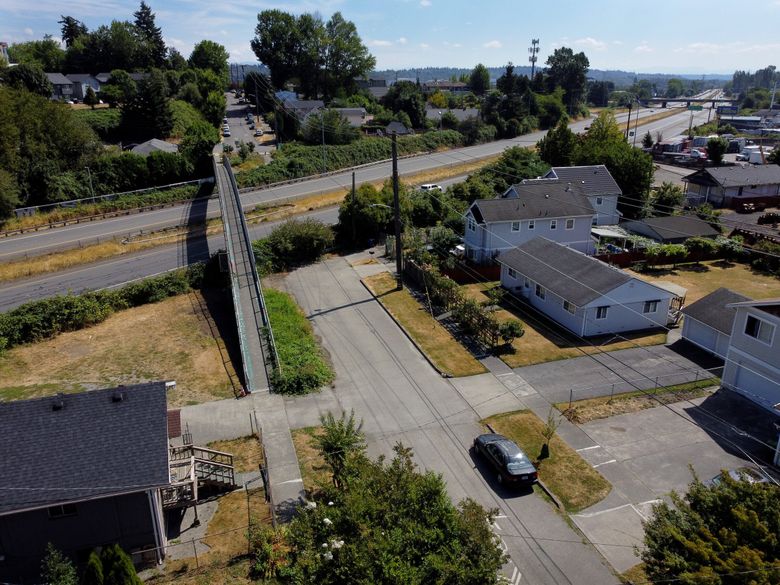 Washington has a history of adopting state-based policies, led by California, that cut pollution and improve lives in our state. Adopting these standards ensures we stay on track. Read more. By Paula Sardinas — Special to The Times
A Fast-Emptying Ark —The World Grows Quieter by the Day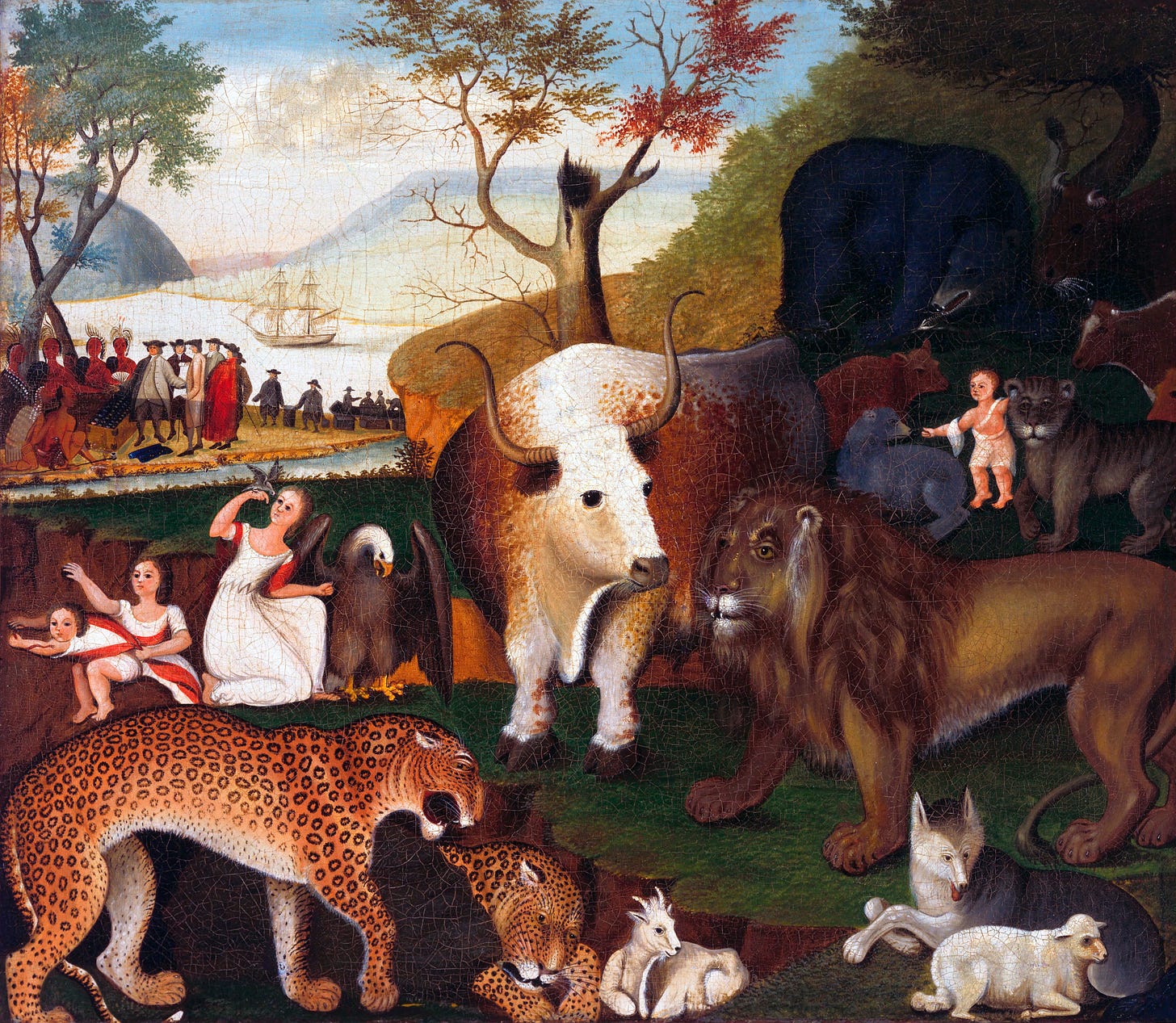 A vast new study finds there are 70 percent fewer wild animals sharing the earth with us than there were in 1970. Most of the decline can be traced to habitat destruction: the human desire for ever more stuff playing out daily, acre by acre, across the globe. Read more. By Bill McKibben — The Crucial Years